www.IndonesiaTeakFurniture.com
Indonesian Furniture Manufacturer in Bali and Java Indonesia. View our catalog of Bali Furniture
Visit our recommended page boat wood dining table and chairs. Dining room furniture made of reclaimed wood salvaged from old wooden boat or old Javanese house. Recommended for you to order these items along with other items. Browse our web sites or chat with us on our social media, go to Teak Furniture linktree page.
Indoor furniture from Java Indonesia made of mahogany wood. Home furniture made by CV MAYA, a furniture manufacturer located in Java with shop in Bali. We produce and exports various home and living room furniture made of mahogany wood. We have a complete line of furniture which you can mix in one container. Mahogany wood TV cabinets, drawers, buffets, ward robe table bedsides etc. All furniture here made to order only. Production takes at least one month. Please order in advance.
Furniture Code: DSC- 1277
Go to White Painted Furniture Indonesia Catalog
Teak wood bath mats from Indonesia. Factory direct, buy bathroom mats direct from factory in Java Indonesia. Non-slip shower mats made of teak wood and other solid wood from manufacturer and exporter company in Indonesia. Floor mats for your kitchen, patio or bathroom for safe footing. These durable hard wood sauna and spa mats also foldable, safe space and easy to store. The wood that was used for making these kitchen or bathroom floor mats, taken from sustainable plantations in Java Indonesia. Eco-friendly and sustainable. Kitchen Floor Mats from Indonesia. Teak wood shower bath mats made in Indonesia. Quality bathroom mats made of natural solid wood. Wood bath mats for bathroom floor direct from factory in Java Indonesia. Buy wholesale factory direct. Bulk quantity, worldwide shipping.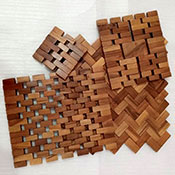 Teak root wood console table from Indonesia. Handmade console table made of teak root wood. Teak root wood console table made of teak tree root wood from teak plantation in Java Indonesia. Durable and real solid wood suitable for indoor and outdoor. Teak wood furniture for your home and garden. Available in various sizes. Each console table here and all other teak root furniture is unique and one of a kind. Please email us for further information about ordering and importing our teak root furniture. Teak wood console table from Indonesia.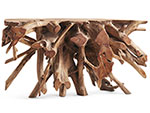 Teak wood mushrooms from Indonesia. Home and garden ornaments. Carved teak wood mushroom sculptures. Solid teak wood mushrooms handcarved by skill teak wood craftsmen using reclaimed teak wood. Handmade in Indonesia. Beautiful and durable teak wood home and garden decors. Unique and one of a kind.Don't forget to view our catalog of reclaimed boat wood letters.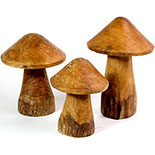 Back to Teak Furniture Home | Boat Wood Furniture | Live Edge Dining Table
Kitchen utensils made of teak wood from Java Indonesia. Various teak wood spoons, forks, bowls, trays, plates and many more. Wide range of wooden tools for your kitchen. All made of solid wood including teak wood. Handmade by skill craftsmen of Indonesia. Browse our catalog of teak wood kitchenware direct from factory in Indonesia. Take a look at our extensive range of cooking utensils including spatula and cooking spoons. View also salad fork, teak wood bowls and plates for your restaurant or catering business. Wooden Cooking Utensils for Kitchen. Wooden spoons and plates to meet all your cooking needs. Don't forget to view our catalog of Kuksa cups made of wood. Nordic style wooden Kuksa cups made of teak wood direct from teak wood kitchen tools factory in Indonesia.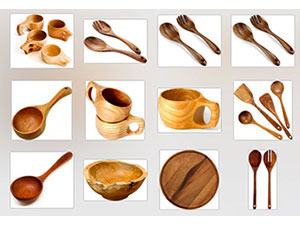 Indonesian furniture by CV MAYA, manufacturer company for indoor and outdoor furniture. We produce all type of furniture such as TV cabinet Armoire, Bedroom furniture, Bookcase, Buffet and Cabinet Chair. All made of teak or solid wood from Indonesia.
Driftwood garden sculptures made in Indonesia. Various garden statues made of teak wood components. Wide range animal sculptures to decorate your garden and patio including deer, horse, elephant and other animals. Other than garden sculptures, also available wall decors made of driftwood and teak wood components. Wall decoration and ornament such as wooden ship steering wheels, deer head, horse head and many more. Please visit our driftwood crafts and take a look our wooden crafts such as fir trees, buffalo head skull, name plaque etc. We are also able to make any wooden crafts according to your request. We have skill wood craftsmen ready to make your order become reality. We also source our teak wood from sustainable teak plantation here in Java Indonesia.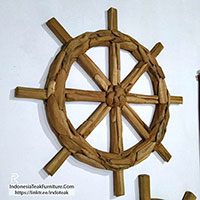 Live Edge Dining Table from Indonesia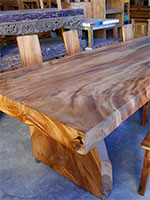 Large Dining Table from Indonesia