Teak Wood Spoons Forks Indonesia | Teak Wood Cutting Boards Indonesia | Teak Wood Bowls Indonesia
Teak wood kitchen utensil from Indonesia. Various products for your kitchen. Teak wood spoons forks made of wood from teak plantation. Wide range of serving trays and plates, bowls, cups, teak wood chopping boards and kuksa from Indonesia. Buy direct from factory in Java Indonesia. Enjoy competitive pricing. We ship worldwide, bulk quantity. Please contact us for further information regarding our kitchen tool products. Send us email or WhatsApp message.
Indonesian mahogany furniture for indoor direct from Java, made by CV MAYA, a furniture factory who produce almost all kind of furniture including armories, beds and bedsides, chests of draws, big chairs and sofas buffets cabinets, bookcases, childrens furniture, chippendale chairs desks, writing tables, dining room chairs and table, dressing tables, fireplaces, garden teak furniture, hall stands, kitchen chairs mirrors, plantstands, venetian mirrors, wall tables, consoles etc.
Furniture Code: CABINET 8
Mahogany wood cabinet made in Indonesia by CV MAYA, indoor furniture manufacturer company in Java Indonesia. Contact us if you interested in ordering our items. Fill our inquiry form.
Back to Mahogany Wood Cabinet Catalog Page
Teak wood mushrooms from Indonesia. Home and garden ornaments. Carved teak wood mushroom sculptures. Solid teak wood mushrooms handcarved by skill teak wood craftsmen using reclaimed teak wood. Handmade in Indonesia. Beautiful and durable teak wood home and garden decors. Unique and one of a kind.Don't forget to view our catalog of reclaimed boat wood letters.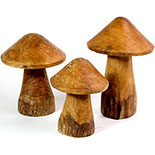 Back to Teak Furniture Home | more Teak Root Furniture | Boat Wood Furniture Bali Indonesia
Indonesian furniture by CV MAYA, manufacturer company for indoor and outdoor furniture. We produce all type of furniture such as TV cabinet Armoire, Bedroom furniture, Bookcase, Buffet and Cabinet Chair. All made of teak or solid wood from Indonesia. Browse our latest catalog for Bali furniture.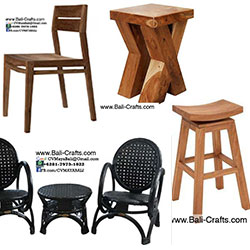 Furniture factory in Java Indonesia. We're furniture manufacturer company in Java Indonesia. We produce and export live edge dining table made of suar hardwood. We are manufacturer and exporter of reclaimed wood furniture. Buy boat wood furniture from Indonesia. Email us, Instagram: Boat Furniture Factory
Teak wood kitchen utensil from Indonesia direct from factory in Java Indonesia. Various kitchen cutlery and kitchen tools made of teak wood. Handcrafted by skill craftsmen with years of experience in producing teak wood bowls, teak wood chopping boards, spoon fork sets and serving trays. All kind of kitchen gadgets including butter knives, measuring cups and spoons, teak wood spatulas, egg holders, pastry rolls, herb grinders, teak wood sinks and vases. Source your kitchen tools direct from factory in Indonesia. Beautiful teak wood kitchen utensil. Durable, lightweight and beautiful wood texture. Browse our catalog and contact us if you need more information. See photo for our email address or send us message on WhatsApp.

Indonesian Furniture | Bali Furniture | Shop | Root Furniture | Teak Bowls| Boat Wood Furniture | Teak Wood and Copper Bowls | Live Edge Dining Table