www.IndonesiaTeakFurniture.com. Indonesian Furniture Manufacturer in Java. Exporter Company for Wooden Furniture
Teak Wood Spoons Forks Indonesia | Teak Wood Cutting Boards Indonesia | Teak Wood Bowls Indonesia
Mahogany furniture from Indonesia. Indonesia well known as source for good quality hardwood furniture including furniture made of mahogany. There're many furniture manufacturers and furniture factories here, producing and exporting all kind of furniture. Buy mahogany furniture from us and get mix of furniture inside one container. You're also welcome to mix mahogany furniture with other type of hardwood furniture such as teak wood furniture. All in the same shipment.
Furniture Code: CABINET 43
Indonesian furniture made of solid mahogany wood from Indonesia by CV MAYA, Indonesian furniture manufacturer company located in Java. Contact us if you interested in ordering our items. Browse our web sites or chat with us on our social media, go to Teak Furniture linktree page.
Kitchen utensils made of teak wood from Java Indonesia. Various teak wood spoons, forks, bowls, trays, plates and many more. Wide range of wooden tools for your kitchen. All made of solid wood including teak wood. Handmade by skill craftsmen of Indonesia. Browse our catalog of teak wood kitchenware direct from factory in Indonesia. Take a look at our extensive range of cooking utensils including spatula and cooking spoons. View also salad fork, teak wood bowls and plates for your restaurant or catering business. Wooden Cooking Utensils for Kitchen. Wooden spoons and plates to meet all your cooking needs. Don't forget to view our catalog of Kuksa cups made of wood. Nordic style wooden Kuksa cups made of teak wood direct from teak wood kitchen tools factory in Indonesia.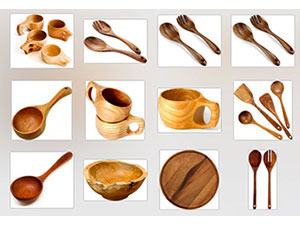 Back to Teak Furniture Home | Live Edge Dining Table Indonesia | Boat Wood Furniture Indonesia
Furniture factory in Java Indonesia. We're furniture manufacturer company in Java Indonesia. We produce and export live edge dining table made of suar hardwood. We are manufacturer and exporter of reclaimed wood furniture. Buy boat wood furniture from Indonesia. Email us, Instagram: Boat Furniture Factory
Live Edge Dining Table from Indonesia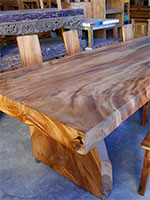 Large Dining Table from Indonesia
Indonesian Furniture | Bali Furniture | Shop | Root Furniture | Teak Bowls| Boat Wood Furniture | Teak Wood and Copper Bowls | Live Edge Dining Table