Product Code: TRM
Teak Root Wood Mirror Frame
Size 65cm or 26in at widest poing. US$ 59 Exworks
Size 40cm or 16in at widest poing. US$ 41 Exworks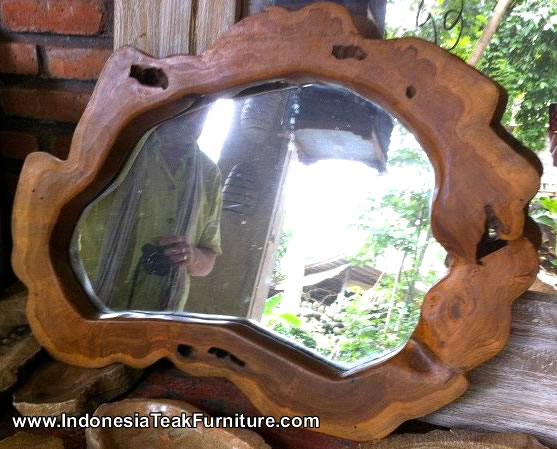 Teak Root Product Code: TRWMR
Teak Root Wood Mirror Frame. Wooden Mirror Frame made of Teak Wood
Teak root wood mirror frame. This wooden mirror frame is unique and one of a kind. Rustic and natural look suitable for your log or cabin house. Made of teak tree root wood from Java teak plantations. This teak wood mirror frame made in Indonesia by Indonesian teak furniture factory and Indonesian teak furniture manufacturer company
BACK TO Teak Wood Home Accessories
We're able to supply you with teak root furniture from Java Indonesia. Good quality and very good priced.
Teak root furniture direct from Java, the home of largest teak plantation in the world. Buy teak root furniture direct from teak root furniture manufacturer and factory in Java Indonesia.
Indonesia Teak Root Furniture | Rustic Furniture Java Indonesia | Outdoor Rustic Teak Furniture


Teak root furniture direct from Java Indonesia. Teak tree root wood bench, root table and teak root chairs. Made of teak tree root wood. Strong all seasons furniture for indoor or outdoor furniture. By teak furniture manufacturer company.