Live Edge Dining Table
Large dining table with live egde and beautiful wooden grain. Dining table made of suar wood, a type of hardwood found in many places in Indonesia. We make large dining table made of suar wood, combined with dining chairs or suar wood bench. Available in various sizes. Please remember to provide us with size needed when ordering our suar wood table. Don't forget also we need to know the thickness. We usually make our live edge suar wood dining table with 10cm thickness. To provide more thickness is possible, but please contact us as early as possible.
Suar wood is a type of wood commonly found in Indonesia, this is not endangered wood nor rain forest tree wood. They are usually found in villages. We cut the tree usually because it is too big and put village people life in danger in rainny season.
Furniture Code: Hrdwd1-1
Large Dining Table Furniture from Bali
Bali furniture for export. Buy direct from factory and exporter in Bali Indonesia. Browse our wide range of furniture made in Indonesia. We have many furniture available for you to import to your country. All handmade in Indonesia.
More Teak Wood Furniture from Indonesia Rustic Furniture Made in Indonesia . Java Teak Furniture. Teak Wood Benches, Teak Wood Daybeds, Tables etc. Teak Root Furniture Made in Indonesia Log Furniture from Indonesia Rustic Furniture Made of Teak Tree Root Wood from Teak Plantations in Java Indonesia Home and garden furniture made of teak root wood. A very unique one of a kind furniture from Indonesia To place an order for our furniture, please send e-mail to us using inquiry form. When sending us an inquiry, please remember to include your complete address, phone number and a brief info regarding your company or your business. We receive many e-mail everyday, please be serious. We give response only to serious inquiry. Thank you for your cooperation. We're looking forward for doing long term business with you. For immediate response, call (62 81) 7973 1022 after emailing.
Garden furniture made of teak wood. We have a large collection of outdoor furniture and patio furniture made of teak wood. The teak wood taken from teak tree root. The hardest part of the teak tree. Our teak garden furniture surely will last for long time. Very little maintenance is needed.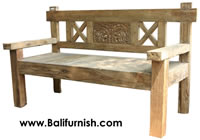 Recycle Wood Bench from Bali.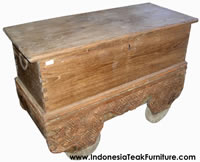 Reclaimed Wood Furniture Indonesia.

Reclaimed Furniture Indonesia.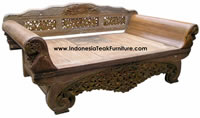 Carved Wood Furniture Indonesia.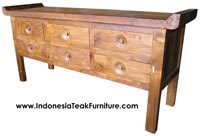 Reuse Wood Furniture Indonesia.
Teak Wood Furniture Indonesia.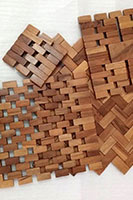 Teak Wood Bathroom Mats
Indonesian Teak Wood Furniture.
Acrylic and Wood Furniture Bali.
IndonesiaTeakFurniture.Com Exporter of Teak Wood Furniture from Indonesia Hot line (62 81) 7973 1022. Bali and Yogyakarta Indonesia Contact Indonesia Teak Furniture. For Bali Handicrafts go to Balifurnish.Com. Terms and Conditions. See also handmade Reclaimed Boat Wood Letter from Indonesia. Rustic style wooden letters as home decors from Indonesia. Strong and durable to use as indoor and outdoor home accessories made in Indonesia. Wooden alphabet and numbers, vintage style direct from factory in Indonesia.