Index > Reclaimed Teak Furniture > Balinese Style Doors (GBK2-1 to 14) | Balinese Wood Doors (GBK3-1 to 18) | Carved Wood Doorways Javanese Teak (GBK 1 to 12)
Bali traditional doors and windows. Balinese style doors from Indonesia. Wooden doors in traditional Balinese style suitable for your tropical style home or house. Bali style doors with intricate carvings in various sizes for indoor or outdoor. All kind of doors, home entrance or garden gate made of hard wood with made to order ornaments.
We're able to provide good price for this teak furniture. Please contact us for further info.
When sending email, please remember to provide complete info and a brief info about your business.
More Bali Style Doors . Carved wood doors from traditional balinese door makers
Teak wood cutlery wooden spoons forks from Indonesia direct from factory in Java Indonesia. Various kitchen cutlery and kitchen tools made of teak wood. Handcrafted by skill craftsmen with years of experience in producing teak wood bowls, teak wood chopping boards, spoon fork sets and serving trays. All kind of kitchen gadgets including butter knives, measuring cups and spoons, teak wood spatulas, egg holders, pastry rolls, herb grinders, teak wood sinks and vases. Source your kitchen tools direct from factory in Indonesia. Beautiful teak wood kitchen utensil. Durable, lightweight and beautiful wood texture. Browse our catalog and contact us if you need more information. See photo for our email address or send us message on WhatsApp.

Teak root wood console table from Indonesia. Handmade console table made of teak root wood. Teak root wood console table made of teak tree root wood from teak plantation in Java Indonesia. Durable and real solid wood suitable for indoor and outdoor. Teak wood furniture for your home and garden. Available in various sizes. Each console table here and all other teak root furniture is unique and one of a kind. Please email us for further information about ordering and importing our teak root furniture. Teak wood console table from Indonesia.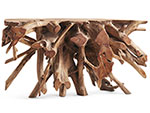 We are reclaimed wood furniture manufacturer with factory located in Java Indonesia. We produce furniture made of reclaimed wood from old wooden boat or Javanese houses. Buy boat wood furniture from Indonesia direct from the factory. We are also manufacturer of live edge kitchen and dining room table made of suar hardwood. For more information, please email or call/WhatsApp us +6281353357458. Visit our Instagram:Boat Furniture Factory