Teak Wood Home Accessories from Bali and Java Indonesia
Home accessories and garden decorations or ornaments made of teak wood or other materials. Home decors and crafts from Indonesia. Tropical home accessory made of wood handmade in Bali and Java to decorate your house or patio according to tropical style. Import home ornaments such as tabletops, wall hanging, floor, bathroom or bedroom crafts.
Teak Wood Bowls from Bali Indonesia
Teak Wood and Resin Acrylic Furniture Bali Indonesia
We have many home accessories made of teak root wood including teak root wood screen, teak wood cube or wooden block and teak root vases. These all teak wood products are unique and one of a kind. Variation will occur from photos above. Buy teak wood home furniture and accessories made of teak root from teak wood factory in Java, Bali Indonesia. We're manufacturer and exporter in Indonesia with years of experience as supplier and producer. We're looking for teak furniture importer or wholesalers around the world to import teak wood furniture and teak crafts from Indonesia.
We are reclaimed wood furniture manufacturer with factory located in Java Indonesia. We produce furniture made of reclaimed wood from old wooden boat or Javanese houses. Buy boat wood furniture from Indonesia direct from the factory. We are also manufacturer of live edge kitchen and dining room table made of suar hardwood. For more information, please email or call/WhatsApp us +6281353357458. Visit our Instagram:Boat Furniture Factory
Live Edge Dining Table from Indonesia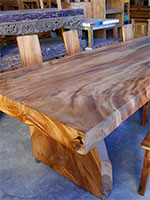 Large Dining Table from Indonesia