Recycle Boat Wood Furniture Bali Indonesia
Boat Wood Furniture from Bali Recycle Wood Furniture Java Indonesia Salvage Fishing Boat Reused Eco Furniture Factory Manufacturer Company Reclaimed Teak Wood Chairs Furniture from Indonesia. Reclaimed Teak Furniture Made in Indonesia. Java Teak Furniture from Recycle Wood. See also our reclaimed boat wood dining chairs table furniture set.
Indonesian furniture direct from the furniture manufacturer in Java Indonesia. Wooden furniture from Java. Furniture made in Indonesia. Reclaimed Teak Wood Bench Recycle Teak Furniture Bali Java Indonesia. Our products including Home Accessories and Mirrors, Bars furniture including Bar Tables and Bar Chairs, Cabinets and Sideboards, Chairs and Stool,Coffee Tables, Home decor Objects, Chest Drawers, shelving. Furniture made of salvaged ship wood of outrigger or "jukung" a traditional balinese or javanese fishing boats or canoe. We always looking for furniture companies and importers who need unique wood furniture for their shops or business. These boat wood furniture is perfect choice for you.
Reclaimed Boat Wood Furniture Bali Indonesia
Boat Wood Furniture Indonesia.
Boat Wood Furniture Indonesia.

Boat Wood Furniture Indonesia.
Teak wood mushrooms from Indonesia. Home and garden ornaments. Carved teak wood mushroom sculptures. Solid teak wood mushrooms handcarved by skill teak wood craftsmen using reclaimed teak wood. Handmade in Indonesia. Beautiful and durable teak wood home and garden decors. Unique and one of a kind.Don't forget to view our catalog of reclaimed boat wood letters.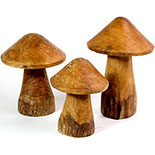 Furniture factory in Indonesia both Java and Bali. Producer & manufacturer company of teak wood furniture for indoor and outdoor. Indonesian furniture supplier and wholesaler sell teak root furniture, reclaimed wood furniture, mahogany wood furniture and large dining wood table as garden furniture.
All wooden furniture here made in Indonesia. Made to order. Please email us your order with details about item number and quantity. Remember also to include information about your shipping port. We deliver our furniture port to port meaning you will need to arrange transportation from your shipping port to your warehouse.
Links to other boat wood furniture from Bali :
Wood Furniture and Home Decors from Bali Indonesia.

Teak Root Furniture Indonesia.

Boat wood home decors from Indonesia.

Boat Wood Furniture Indonesia

Big Table Furniture Indonesia.

Wooden Bowls Indonesia.

Live Edge Dining Table Indonesia.

Teak Furniture Acrylic

Bali Furniture

Teak Wood Floor Mats

Teak Wood Kuksa Cups from Indonesia

Teak Wood Kithen Utensils

Teak Wood Spoon Fork
Furniture from Bali made of solid teak wood and other kind of wood including suar table. Indonesian Furniture. Teak Wood Furniture from Indonesia. Wooden Furniture from Bali Indonesia. Wood Furniture and Home Decors from Bali Indonesia. Other than furniture, please visit also our teak wood mushrooms garden decors. Wooden mushroom carvings.