Teak Wood Spoons Forks Indonesia | Teak Wood Cutting Boards Indonesia | Teak Wood Bowls Indonesia
Ethnic furniture made in Indonesia. Antique ethnic furniture from Java Indonesia. Bali antique home furniture. Teak wood wardrobe furniture with carved ornaments. Antique reproduction furniture made of reclaimed teak wood. Teak wood taken from salvaged old traditional houses in Java. Also from wood bridge, wooden boats, carts etc. By recycling the teak wood from old houses. The wood is perfectly dry. No need to worry about cracking or molding.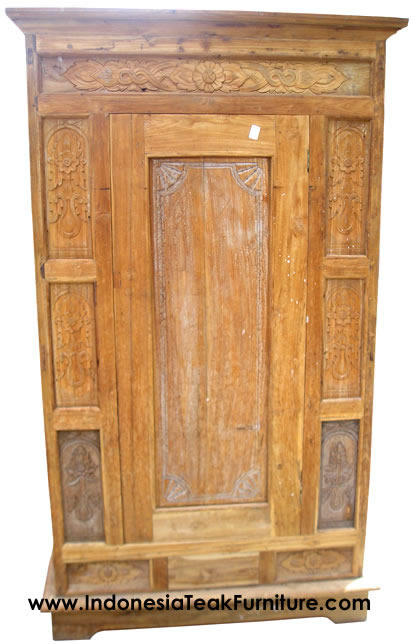 Furniture Code: WARD 7
Antique Reproduction Furniture from Java Indonesia. Teak Wood Wardrobe with Carved Ornaments
Antique Ethnic Furniture. Asian Furniture. Teak Wood Bedroom Furniture
HOW TO PLACE YOUR ORDER: We're able to supply you with Indonesian teak furniture in container load or less than container load. All Indonesia furniture (furniture from Bali, Java or Madura) shown here made to order only. Please order our teak furniture away in advance. We ship worldwide. Please send your order in details using our inquiry form.Tell us the product code and quantity needed. Tell us also your name, complete address and phone/fax number. Pricing and shipping information available upon request only. Please send your inquiry by email. For immediate response, call (62 81) 7973 1022 after emailing.
Back to Carved Wood Wardrobes Furniture from Java
Teak wood mushrooms from Indonesia. Home and garden ornaments. Carved teak wood mushroom sculptures. Solid teak wood mushrooms handcarved by skill teak wood craftsmen using reclaimed teak wood. Handmade in Indonesia. Beautiful and durable teak wood home and garden decors. Unique and one of a kind.Don't forget to view our catalog of reclaimed boat wood letters.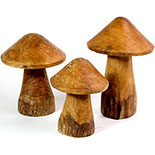 Our company CV Maya located in both Java and Bali island of Indonesia. In Java, we're located in Yogyakarta or Jogja, a city known as the center of handicrafts and furniture industry in Java. We also operate in Bali. With office and warehouse in Bali and Yogyakarta, we're able to provide you with furniture and home accents from both locations. If you looking for something but not listed here, please contact us. We will make it for you or locate the craftsmen, manufacturer or factory for you. We have many home accents and home decors products. Please click links below to view our home accents products. These links will take you to our sister site www.Balifurnish.com. This site is the No.1 source in Indonesia for all handicrafts, accessories, arts crafts and home decors. To combine order for this site and order for Balifurnish.com is possible. We're under the same company, CV Maya.
Big Wood Slabs Table Tops
Bali Suar Wood Dining Tables
Teak wood kitchen utensil from Indonesia. Various products for your kitchen. Teak wood spoons forks made of wood from teak plantation. Wide range of serving trays and plates, bowls, cups, teak wood chopping boards and kuksa from Indonesia. Buy direct from factory in Java Indonesia. Enjoy competitive pricing. We ship worldwide, bulk quantity. Please contact us for further information regarding our kitchen tool products. Send us email or WhatsApp message.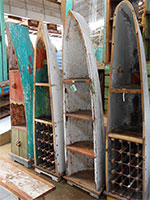 Boat Wood Furniture from Bali Indonesia
Live Edge Dining Table from Indonesia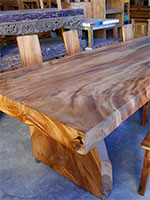 Large Dining Table from Indonesia
---