Recycled Tire Furniture Reuse Rubber Tires Furniture from Java Bali Indonesia Yogyakarta.
Photos of Recycled Rubber Tires Chair tables and Furniture Factory in Indonesia Bali Jogjakarta. Workshop and supplier of re-use car tire furniture including chairs, tables and even planter or boxes made of car tire rubber. Eco friendly and green products from Indonesia.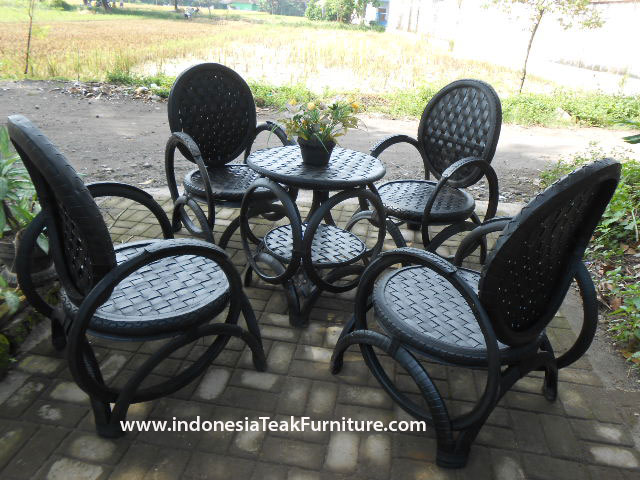 Recycle car tire furniture chairs and table from Indonesia. Other than car tires, we use also motor cycle tire or bike tire to use as an eco friendly re use rubber tire furniture made in Indonesia by environmentally friendly products which is car tire chairs or car tires table furniture. All handmade by craftsmen in Indonesia (Bali or Java or Yogyakarta). We're also producing other recycle tire products such as boxes, buckets, garden planters and even sandals!
round stool 54x47x38cm IDR 85,000 $8.95
Small table 48x48x47cm IDR 120,000 $12.63
big table 51x51x60cm IDR 150,000 $15.79
small chair 65x57x69cm IDR 110,000 $11.58
rocking horse IDR 80,000 $8.42
square stool 41x41x44cm IDR 160,000 $16.84
small mirror IDR 110,000 $11.58
large mirror IDR 160,000 $16.84
big chair 66x48x98cm IDR 150,000 $15.79

Price EXW. Price only include the product, nothing else !
Price in US$ based on exchange rate 1 US$ = Rp 9500
This may change any time.
We are reclaimed wood furniture manufacturer with factory located in Java Indonesia. We produce furniture made of reclaimed wood from old wooden boat or Javanese houses. Buy boat wood furniture from Indonesia direct from the factory. We are also manufacturer of live edge kitchen and dining room table made of suar hardwood. For more information, please email or call/WhatsApp us +6281353357458. Visit our Instagram:Boat Furniture Factory