Dining room furniture from Indonesia. Teak wood furniture. Teak table and chairs set.
Indonesian furniture direct from the furniture manufacturer in Java Indonesia. Wooden furniture from Java. Furniture made in Indonesia.
Teak Wood Dining Room Furniture Code: DNR1-1
Teak wood dining table and chairs set. Java Teak Furniture.
Please contact us for more details

Shop | Teak Root Furniture Java | Reclaimed Wood Furniture Indonesia | Boat Wood Dining Room Furniture| Teak Bowl Factory
Teak Wood Bowls | Boat Wood Dining Table | Boat Wood Furniture Factory | Large Wood Dining Table
Teak wood mushrooms from Indonesia. Home and garden ornaments. Carved teak wood mushroom sculptures. Solid teak wood mushrooms handcarved by skill teak wood craftsmen using reclaimed teak wood. Handmade in Indonesia. Beautiful and durable teak wood home and garden decors. Unique and one of a kind.Don't forget to view our catalog of reclaimed boat wood letters.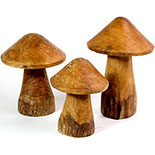 Furniture factory in Indonesia both Java and Bali. Producer & manufacturer company of teak wood furniture for indoor and outdoor. Indonesian furniture supplier and wholesaler sell teak root furniture, reclaimed wood furniture, mahogany wood furniture and large dining wood table as garden furniture.