Boat Wood Furniture
Recycled wood boat furniture from Indonesia. Furniture chairs and table set for your dining room. Also bar stools and table. Chairs and table made of good quality wood, reclaimed timber. Furniture made in Indonesia by skill furniture craftsmen with years of experience in making wooden furniture for export. If you are interested in importing our furniture to your country, please contact us by email or Whatsapp. See picture of the furniture for details. We will be happy to assist you in buying our furniture. Contact us now please. See also Boat Wood Bookcase and Bottle Rack.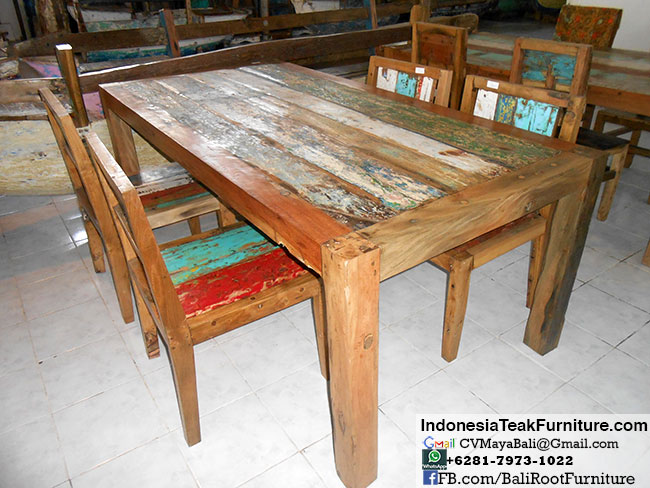 Boat Wood Furniture Code: DSCN4296
Boat Wood Furniture Table Chairs Set from Indonesia. Dining Table and Dining Chairs Furniture Set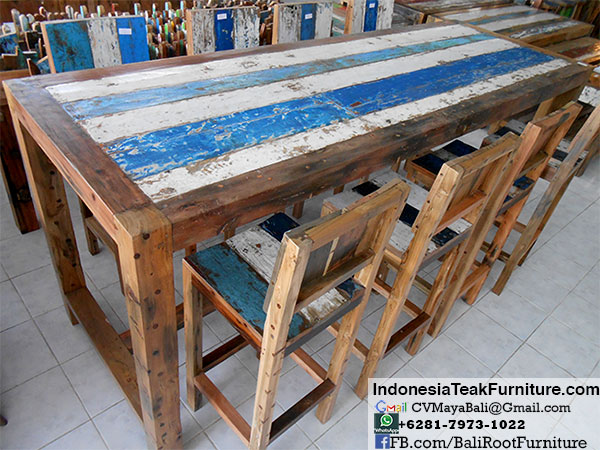 Furniture Code: DSCN4298
Boat Wood Furniture from Bali. Bar Stools Chairs and Table Indonesian Furniture
Bali furniture for export. Buy direct from factory and exporter in Bali Indonesia. Browse our wide range of furniture made in Indonesia. We have many furniture available for you to import to your country. All handmade in Indonesia. Please view our catalog here to view some of our reclaimed wood furniture such as boat wood chairs, table, bench, and mirror frames.
Garden furniture made of teak wood. We have a large collection of outdoor furniture and patio furniture made of teak wood. The teak wood taken from teak tree root. The hardest part of the teak tree. Our teak garden furniture surely will last for long time. Very little maintenance is needed.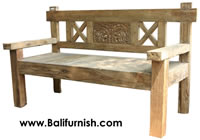 Recycle Wood Bench from Bali.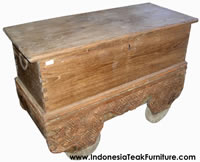 Reclaimed Wood Furniture Indonesia.

Reclaimed Furniture Indonesia.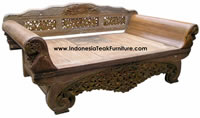 Carved Wood Furniture Indonesia.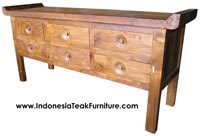 Reuse Wood Furniture Indonesia.
Teak Wood Furniture Indonesia.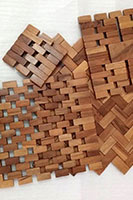 Teak Wood Bathroom Mats
Indonesian Teak Wood Furniture.
Acrylic and Wood Furniture Bali.
IndonesiaTeakFurniture.Com Exporter of Teak Wood Furniture from Indonesia Hot line (62 81) 7973 1022. Bali and Yogyakarta Indonesia Contact Indonesia Teak Furniture. For Bali Handicrafts go to Balifurnish.Com. Terms and Conditions. See also handmade Reclaimed Boat Wood Letter from Indonesia. Rustic style wooden letters as home decors from Indonesia. Strong and durable to use as indoor and outdoor home accessories made in Indonesia. Wooden alphabet and numbers, vintage style direct from factory in Indonesia.