Furniture from Indonesia by www.IndonesiaTeakFurniture.com
Furniture from Indonesia by CV MAYA, owner of this web site.
There're many freight forwarders and cargo company in Indonesia, both in Semarang Central Java and Denpasar Bali . Below you will find a broad outline of LCL and FCL charges (subject to change anytime with no prior notice).
Tokyo/Yokohama/Nagoya/Osaka/Kobe Usd.15/cbm
Busan, Korea usd.16/cbm
Singapore Usd. 7/cbm
Porklang Usd. 7/cbm

Vancouver Usd.98/cbm
Acajutla Usd.225/CBM Min 2 Cbm

Rotterdam/Hamburg/Antwerp/Leharve/
Felixstowe/Barcelona / Genoa Usd.25/CBM Min 1CBM

Long beach /Los Angeles Usd. 34/CBM
New York Usd.89/CBM
San Francisco US$ 65/cbm. Transit time approximately 29 days

rate valparaiso, Chili Usd.145/CBM Min 1Cbm

Long Beach, Los Angeles Usd.34 /CBM

Below is local charges which applied to all destinations:
Export documents $ 25 per shipment
Bill of Lading $ 5 per shipment
Trucking $ 30/cbm
Packaging (carton box) $ 25/cbm
Packaging (wood crate per cbm) $ 20
Courier charge for sending documents $ 30 per shipment
Fumigation + ISPM 15 labelling $ 38 for first cbm, US$ 5 for every additional cbm
Teak wood bath mats from Indonesia. Factory direct, buy bathroom mats direct from factory in Java Indonesia. Non-slip shower mats made of teak wood and other solid wood from manufacturer and exporter company in Indonesia. Floor mats for your kitchen, patio or bathroom for safe footing. These durable hard wood sauna and spa mats also foldable, safe space and easy to store. The wood that was used for making these kitchen or bathroom floor mats, taken from sustainable plantations in Java Indonesia. Eco-friendly and sustainable. Kitchen Floor Mats from Indonesia. Teak wood shower bath mats made in Indonesia. Quality bathroom mats made of natural solid wood. Wood bath mats for bathroom floor direct from factory in Java Indonesia. Buy wholesale factory direct. Bulk quantity, worldwide shipping.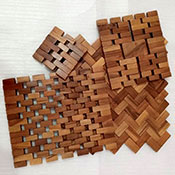 Kitchen utensils made of teak wood from Java Indonesia. Various teak wood spoons, forks, bowls, trays, plates and many more. Wide range of wooden tools for your kitchen. All made of solid wood including teak wood. Handmade by skill craftsmen of Indonesia. Browse our catalog of teak wood kitchenware direct from factory in Indonesia. Take a look at our extensive range of cooking utensils including spatula and cooking spoons. View also salad fork, teak wood bowls and plates for your restaurant or catering business. Wooden Cooking Utensils for Kitchen. Wooden spoons and plates to meet all your cooking needs. Don't forget to view our catalog of Kuksa cups made of wood. Nordic style wooden Kuksa cups made of teak wood direct from teak wood kitchen tools factory in Indonesia.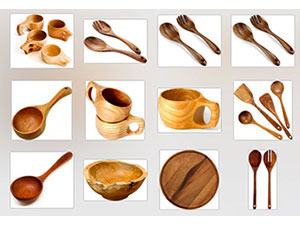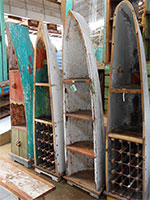 Boat Wood Furniture from Bali Indonesia
Teak wood mushrooms from Indonesia. Home and garden ornaments. Carved teak wood mushroom sculptures. Solid teak wood mushrooms handcarved by skill teak wood craftsmen using reclaimed teak wood. Handmade in Indonesia. Beautiful and durable teak wood home and garden decors. Unique and one of a kind.Don't forget to view our catalog of reclaimed boat wood letters.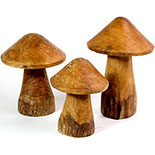 Furniture factory in Indonesia both Java and Bali. Producer & manufacturer company of teak wood furniture for indoor and outdoor. Indonesian furniture supplier and wholesaler sell teak root furniture, reclaimed wood furniture, mahogany wood furniture and large dining wood table as garden furniture.