Teak Furniture. Bali Furniture
Teak Furniture made in Indonesia
Bali furniture made of teak wood or other solid wood from Indonesia. Wide range of furniture including armoire, coffee table, tv cabinets and the most popular items which is daybeds. We have large size daybeds made of teak wood in plain or fully carved teak wood. Suitable to use for your house or patio. Use our furniture to decorate your home or garden. Most of our furniture made of teak wood which is very strong and last for generations.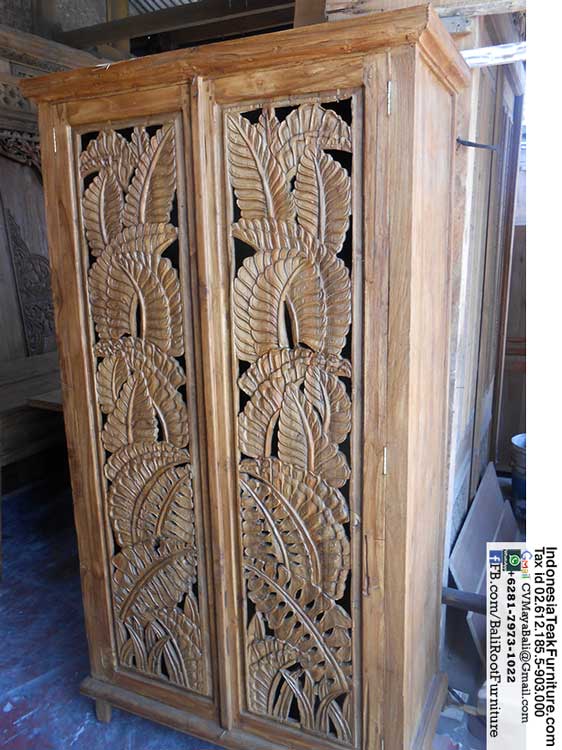 Furniture Code: ITF4-6
Furniture from Bali. Teak Wood Furniture from Bali Indonesia
Our teak furniture are made in Indonesia. Made to order and ready stock furniture available. We recommend to order our furniture at least a 20ft container To ship less than container load (LCL) is possible for certain furniture such as the large dining tables and the teak balls and bowls. Teak chairs that is not stackable is not recommended to order for less than container load.
---
Wood Furniture and Home Decors from Bali Indonesia.

Teak Root Furniture Indonesia.

Boat wood home decors from Indonesia.

Boat Wood Furniture Indonesia

Big Table Furniture Indonesia.

Wooden Bowls Indonesia.

Live Edge Dining Table Indonesia.

Teak Furniture Acrylic

Bali Furniture

Teak Wood Floor Mats

Teak Wood Kuksa Cups from Indonesia

Teak Wood Kithen Utensils

Teak Wood Spoon Fork
www.IndonesiaTeakFurniture.com Bali boat wood furniture factory. Producer and exporter company for all kind of furniture made in Indonesia including live edge large suar wood dining table. Browse our web sites or chat with us on our social media, go to Teak Furniture linktree page. For garden ornaments and decorations please view our teak wood mushrooms from Indonesia. Solid teak wood mushroom carvings handmade in Java Indonesia.