Teak Wooden Furniture Made in Indonesia
Solid wood furniture combined with resin or acrylic. Various furniture including table, chairs, stools, coffee tables and dining table with bench or chairs set. Large dining table with natural curve. All handmade in Indonesia.
Teak wood and crack resin furniture made in Indonesia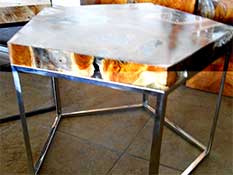 Wood Furniture Code: TAR12
Wood and Acrylic Resin Furniture.
Bali wood carvings and home decors for export. Buy direct from factory and exporter in Bali Indonesia. Browse our wide range of products made in Indonesia. We have many products available for you to import to your country. All handmade in Indonesia.
More Teak Root Furniture and Wood Home Decors from Indonesia

Teak Root Furniture Indonesia.

Boat wood home decors from Indonesia.

Boat Wood Furniture Indonesia

Big Table Furniture Indonesia.

Wooden Bowls Indonesia.

Live Edge Dining Table Indonesia.

Teak Furniture Acrylic

Bali Furniture

Teak Wood Floor Mats

Teak Wood Kuksa Cups from Indonesia

Teak Wood Kithen Utensils

Teak Wood Spoon Fork