Kitchen utensils made of teak wood from Java Indonesia. Various teak wood spoons, forks, bowls, trays, plates and many more. Wide range of wooden tools for your kitchen. All made of solid wood including teak wood. Handmade by skill craftsmen of Indonesia. Browse our catalog of teak wood kitchenware direct from factory in Indonesia. Take a look at our extensive range of cooking utensils including spatula and cooking spoons. View also salad fork, teak wood bowls and plates for your restaurant or catering business. Wooden Cooking Utensils for Kitchen. Wooden spoons and plates to meet all your cooking needs. Don't forget to view our catalog of Kuksa cups made of wood. Nordic style wooden Kuksa cups made of teak wood direct from teak wood kitchen tools factory in Indonesia.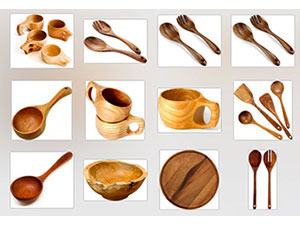 View also Garden Ornaments Teak Wood Mushrooms
TEAK WOOD GARDEN FURNITURE SET
Teak Furniture Code: TEAK SET 11
Teak Wood Garden Furniture Set
Chair HWD 35.5x23.6x23.6 Table HWD 19.7x25.5x25.5
Links to All Furniture Sets:
You're here: Page 11 (Teak Wood Outdoor Furniture Set 11)
Teak Wood Garden Furniture Made in Indonesia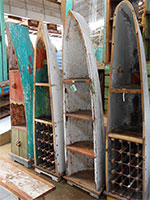 Boat Wood Furniture from Bali Indonesia
Palm Pots from Bali Indonesia. Large pots made of palm tree trunk wood. Hand carved in Bali by Balinese craftsmen. Landscape decorations to decorate your home, gardens. Available in various sizes.
Live Edge Dining Table from Indonesia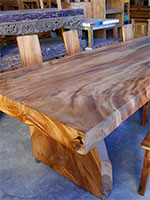 Large Dining Table from Indonesia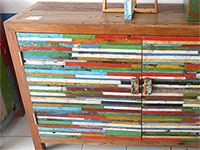 Reclaimed Boat Wood Furniture Factory from Indonesia
Palm Tree Trunk Pots from Bali Indonesia. Large pots made of the palm tree trunk wood. Suitable for landscape decorations or to use garden decors. Available in various sizes. If you are garden decors shop owner looking for landscaping decorations products, this palm pots is for you.
Home and garden decorations from Indonesia. Handicrafts products made in Indonesia. Home wares and garden accents. Arts and crafts from Bali. Garden pots and planters made of wood and stone. Bronze statues, stone planters lanterns and palm pots from Indonesia.
Teak wood mushrooms from Indonesia. Home and garden ornaments. Carved teak wood mushroom sculptures. Solid teak wood mushrooms handcarved by skill teak wood craftsmen using reclaimed teak wood. Handmade in Indonesia. Beautiful and durable teak wood home and garden decors. Unique and one of a kind.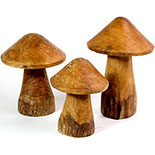 View our Boat Wood Furniture from Indonesia. We are reclaimed boat wood furniture factory in Java with shop in Denpasar Bali Indonesia. We produce our boat furniture ourselves, buy boat wood furniture made in Indonesia direct from furniture factory in Java Indonesia. For more info contact us by email, for faster response contact us by WhatsApp: +6281353357458

Boat Wood Furniture Factory in Indonesia. Buy reclaimed boat wood furniture direct from factory in Indonesia. Contact us now, we will provide you with our offer for our recycled boat wood furniture made in Indonesia. Wide range of furniture including dining table and chairs, coffee table, sofa benches, bookshelves and many more. All made of reclaimed wood from old boat or Javanese houses. Made to order. Please order our Indonesian furniture in advance. Email us for more info or fast response Whatsapp +6281353357458

Indonesian Furniture | Bali Furniture | Shop | Root Furniture | Teak Bowls| Boat Wood Furniture | Teak Wood and Copper Bowls | Live Edge Dining Table
Buying trip to Indonesia ? Let's take you to network of furniture producers. Let's help you Sourcing Furniture in Indonesia
Furniture from Bali Indonesia. Home decors and lanscape ornaments made in Indonesia. Handmade by skill artisans of Indonesia. View our online catalog of various furniture and crafts made of wide range of materials you can find in Indonesia. We have furniture made of teak wood, suar wood, stone even recycled car tires. You can see here furniture made from reclaimed wooden boats, teak root wood furniture and many more.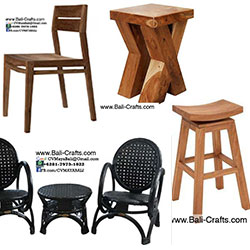 Teak furniture from Indonesia. Teak wood furniture for outdoor patio, garden, lawn or pool. Made in Indonesia and exported worldwide. Good quality teak furniture and reasonable price. We've been exporting quality teak wood furniture from Indonesia since 2002. Now our company has costumers around the world. To order our Indonesia teak furniture, please visit our sister site and place your order for our home decors, landscaping ornaments, furniture and Bali Crafts. Visit www.Bali-Crafts.com to view our latest collection of Furniture, Crafts and Home Decors from Bali Indonesia.