Index > Reclaimed Teak Furniture > Wood Boat Furniture
Boat Wood Furniture from Bali Recycle Wood Furniture Java Indonesia Salvage Fishing Boat Reused Eco Furniture Factory Manufacturer Company Reclaimed Teak Wood Chairs Furniture from Indonesia. Reclaimed Teak Furniture Made in Indonesia. Java Teak Furniture from Recycle Wood
Indonesian furniture direct from the furniture manufacturer in Java Indonesia. Wooden furniture from Java. Furniture made in Indonesia. Reclaimed Teak Wood Bench Recycle Teak Furniture Bali Java Indonesia. Our products including Home Accessories and Mirrors, Bars furniture including Bar Tables and Bar Chairs, Cabinets and Sideboards, Chairs and Stool,Coffee Tables, Home decor Objects, Chest Drawers, shelving.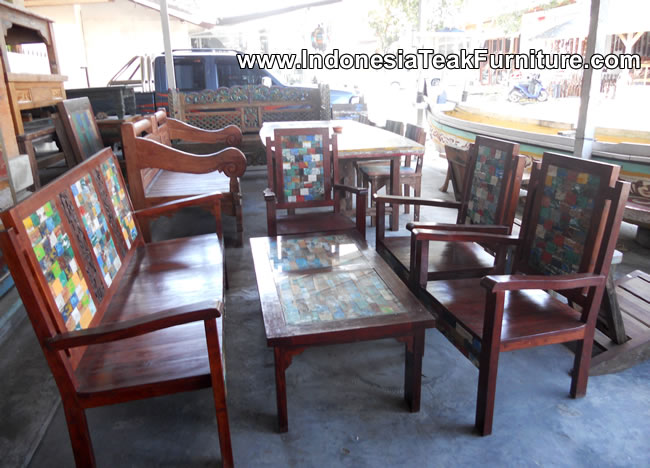 Wood Furniture Code: MR 3029
Wooden Furniture from Indonesia. The colorful wood taken from old wooden outrigger from Java Indonesia
We have complete product lines includes Adirondak Single Chair, Armless Chair, Bar Stool, Benches, Boat Glass Coffee Table, Boat Rack, Boat Shelf with Drawers, Boat Wine Rack, Bookshelf, Cabinet, Console Table, Deck Chair, Drawer cabinet, Drawer Console Table, Folding Bar, Glass Coffee Table, Half Boat, Panelled Arm Chair, Panelled Coffee Table, Panelled Dining Table, Round Chair, Round Coffee Table, Round Dining Table, Small Coffee Table, Square Chair, TV Cabinet, Tables Chairs Sofas Stools Benches Cabinets Racks and Shelves.
Our company located in Denpasar Bali Indonesia with factory in Java. Ph.(62 81) 353357458 Cel/WhatsApp: +628179731022 Skype: cvmaya Email Us

Shop | Teak Root Furniture Java | Reclaimed Wood Furniture Indonesia | Javanese Teak Wood Doors | Balinese Style Doors
Teak Wood Bowls | Sourcing Furniture Indonesia | Large Wood Dining Table
Furniture factory in Indonesia both Java and Bali. Producer and manufacturer company of teak wood furniture for indoor and outdoor. Indonesian furniture supplier and wholesaler sell teak root furniture, reclaimed wood furniture, mahogany wood furniture and large dining wood table as garden furniture.