www.IndonesiaTeakFurniture.com
Teak Wood Table Indonesia. Indonesian Teak Furniture Manufacturer
Manufacturer and Exporter Company for Teak Root Wood Furniture

Wooden table made of solid teak wood. Very strong, suitable as outdoor furniture.
Available in various sizes. Teak furniture direct from Java Indonesia
Teak Wood Table Code: SR-TBL
Teak wood table from Java Indonesia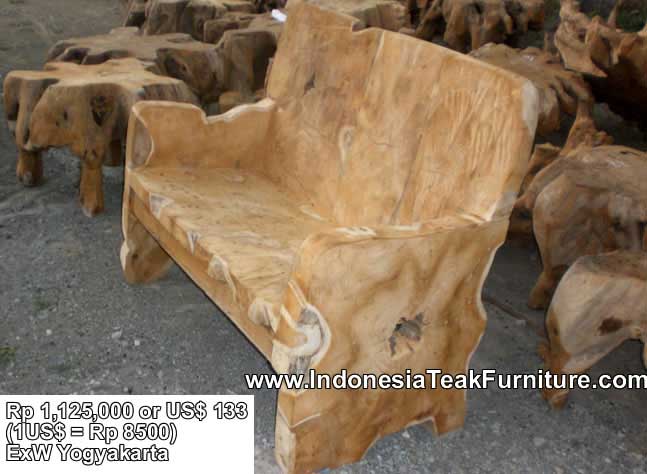 Teak Root Wood Table Code: SR-BNCH
Teak root wood bench rustic style. Java Teak Wood Bench

Furniture Code: TWS-1
Teak Wood Stool
Furniture Code: TWS-2
Teak Wood Stool
Furniture Code: TWS-3
Teak Wood Stool
Furniture Code: TWS-4
Teak Wood Stool
Furniture Code: TWS-5
Teak Wood Stool
Furniture Code: TWS-6
Teak Wood Stool

Furniture Code: TWS-7
Teak Wood Stool
Furniture Code: TWS-8
Teak Wood Stool
Back to Teak Wood Stool Catalog Page Home | Back to Indonesia Teak Furniture Home
Buy teak garden furniture direct from Java Indonesia furniture manufacturer and furniture factory. Our company CV Maya is teak furniture company who produce and exports teak furniture for outdoor garden. Our teak outdoor furniture made of teak wood taken from teak root. Very strong, water and rot resistant, surely will last for generations.
Teak furniture manufacturer company in Indonesia. We exports teak wood furniture. Furniture made of plantation teak wood. Garden patio lawn and outdoor teak benches, teak table and teak chairs. Available in rustic style. Teak furniture factory from Java Indonesia. Furniture made for outdoor furniture suitable for home office living room or patio. Our company located in Bali and Java of Indonesia. We produce teak furniture in rustic style. Rustic teak wood furniture.

We use teak wood for the following:
Teak Root Furniture
Teak Bamboo Furniture
Teak Root Table Furniture
Teak Root Bench Furniture
Teak Root Chairs Furniture
Bamboo Ducks (for the head and feet)


Java has very large teak plantations which were first planted by the Dutch in the early 1800's. Teak tree is not a native tree to Java Indonesia. Teak tree was brought to Java Indonesia by the dutch from Burma, Thailand and India for cultivation in plantations in Java about 300 years ago. We're proud with the teak furniture we sell. Teak root furniture and the reclaimed teak wood furniture.