Index > Reclaimed Teak Furniture > Reclaimed Teak Daybed
Antique Wood Furniture from Indonesia. Reclaimed Teak Wood Furniture Made in Indonesia. Furniture from Bali and Java Indonesia. Furniture made of old teak wood. Home furniture, outdoor garden furniture and patio furniture. Also available, office furniture. Furniture for hotels, restaurant, living room and bedroom
Bali furniture made of teak wood. Indoor furniture. Home furniture from Bali Indonesia. Furniture such as chairs, bench, coffee tables, stools, cabinets, book cases. Note that is a reproduction. NOT genuine antique. These furniture made of reclaimed teak wood. Teak wood taken from old houses, abandon railways old buildings, barns and bridges across Indonesia. Using lumber from old houses and buildings is the ecologically wise to produce rustic antique wooden furniture. Each pieces is handcrafted by skill furniture craftsmen in Indonesia. Recycled Teak Wooden Furniture from Indonesia.
We adding more furniture made in Indonesia. Come back often !
Please email to us using inquiry form for pricing and ordering
Furniture Code: DB 10
Carved Teak Wood Bench Furniture Daybed Antique Java Indonesia
Links to all Teak Wood Furniture and Teak Wood Kitchen Cutlery from Java Indonesia:
More Teak Wood Furniture from Indonesia. Rustic Furniture Made in Indonesia
Java Teak Furniture. Teak Wood Benches, Teak Wood Daybeds, Tables etc.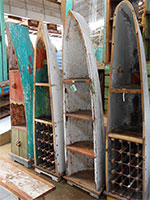 Boat Wood Furniture Factory in Indonesia
Back to Indonesia Teak Furniture Home Page
Teak root wood console table from Indonesia. Handmade console table made of teak root wood. Teak root wood console table made of teak tree root wood from teak plantation in Java Indonesia. Durable and real solid wood suitable for indoor and outdoor. Teak wood furniture for your home and garden. Available in various sizes. Each console table here and all other teak root furniture is unique and one of a kind. Please email us for further information about ordering and importing our teak root furniture. Teak wood console table from Indonesia.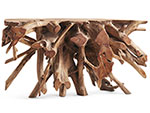 Indonesia furniture. Old teak furniture from Java Indonesia. Bali furniture. Reclaimed teak wood bench, chairs, lounger, tables, cabinets etc. Made in Java Indonesia. The center of furniture industry in Indonesia. Java also home to many teak plantations. Our furniture made of solid hardwood teak. Our teak furniture will last for generations to come !