Indonesian Bali Furniture
Teak Wood Furniture Bali Indonesia
Teak furniture direct from factory in Bali and Java Indonesia. Buy various kind of furniture direct from Indonesia. Made of teak wood or other solid wood. If you are furniture wholesaler in need for wooden furniture, we're here to help you. We are able to supply you with wide range of furniture, from chairs, table, bench, daybeds or large dining table complete with dining chairs. We can supply you with good quality and affordable price. Most furniture here is made to order, but some also available in stock for immediate delivery.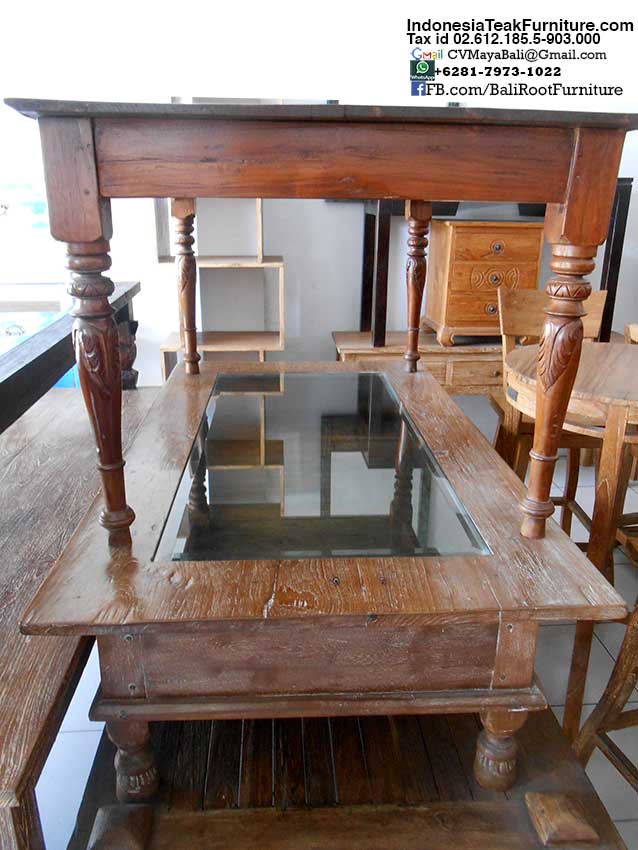 Furniture Code: ITF3-11
Furniture from Bali. Teak Wood Furniture from Bali Indonesia.
Our furniture are made in Indonesia. Made to order and ready stock furniture available. We recommend to order our furniture at least a 20ft container To ship less than container load (LCL) is possible for certain furniture such as the large dining tables and the teak balls and bowls. Teak chairs that is not stackable is not recommended to order for less than container load. Please view also our catalog of reclaimed boat wood letter home decors from Indonesia. We produce wall decors made of recycled boat wood timber. Handmade wooden alphabet letters made of reclaimed old fishing boats from Indonesia. Handmade using old retired wooden boats, real original colors from the wooden boats. Durable and suitable for outdoor use.
---
Wood Furniture and Home Decors from Bali Indonesia.

Teak Root Furniture Indonesia.

Boat wood home decors from Indonesia.

Boat Wood Furniture Indonesia

Big Table Furniture Indonesia.

Wooden Bowls Indonesia.

Live Edge Dining Table Indonesia.

Teak Furniture Acrylic

Bali Furniture

Teak Wood Floor Mats

Teak Wood Kuksa Cups from Indonesia

Teak Wood Kithen Utensils

Teak Wood Spoon Fork
www.IndonesiaTeakFurniture.com Bali boat wood furniture factory. Producer and exporter company for all kind of furniture made in Indonesia including live edge large suar wood dining table. Browse our web sites or chat with us on our social media, go to Teak Furniture linktree page. For garden ornaments and decorations please view our teak wood mushrooms from Indonesia. Solid teak wood mushroom carvings handmade in Java Indonesia.