You're here: HOME > Suar Wood Dining Table Page 1 | Suar Wood Dining Table Page 2 | Suar Wood Countertops Bali Page 3
Large Suar Wood Dining Table Bali
Bali dining tables made of suar wood. Bali furniture for garden or outdoor. Big table to use as dining table in natural shapes. These long tables with thick slabs made in Bali Indonesia by suar wood table factory. Large dining table slab. Suar wood furniture dining table slab.
We're able to provide good price for this teak furniture. Please contact us for further info.
When sending email, please remember to provide complete info and a brief info about your business.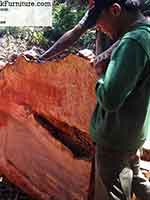 Large Wood Slabs Countertops Bali Indonesia Factory
We are reclaimed wood furniture manufacturer with factory located in Java Indonesia. We produce furniture made of reclaimed wood from old wooden boat or Javanese houses. Buy boat wood furniture from Indonesia direct from the factory. We are also manufacturer of live edge kitchen and dining room table made of suar hardwood. For more information, please email or call/WhatsApp us +6281353357458. Visit our Instagram:Boat Furniture Factory