You're here: HOME > Suar Wood Dining Table Page 2 | See also Suar Wood Dining Table Page 1 | Suar Wood Countertops Bali Page 3
Outdoor Dining Table from Indonesia. Indonesian Teak Furniture Manufacturer
Manufacturer and Exporter Company for Wood Furniture
Large Dining Table from Single Solid Wood (One Piece Hardwood Dining Table) Size start from 200cm to 600cm in length. 70cm to 120cm in wide. Vary in Thinkness, up to 12cm.
Hardwood Dining table made of thick wood from Indonesia. Large dining table from Indonesia. This dining table available in various sizes. Shipped knock down. All dining tables here made in Indonesia. Made to order only. We're able to produce wooden furniture including dining tables, dining chairs and other wooden furniture.
THIS WOODEN TABLE AVAILABLE IN VARIOUS SIZES !
WE'RE ABLE TO MAKE THE TABLE ACCORDING TO YOUR REQUEST !
See also table and bench furniture set from Indonesia. Fully knock down. Suitable as picnic furniture set Bench and table furniture set for your outdoor garden and patio. All made in Indonesia MORE TEAK WOOD DINING TABLE FROM INDONESIA Large dining table made of solid hardwood. Big wooden table from Indonesia More Outdoor dining table from Indonesia Browse our catalog of large dining table made of solid wood with natural curve suitable as outdoor dining table. Large Solid Wood Table Bali Java Indonesia
Large Dining Table Natural Shape. Outdoor dining table from Bali Indonesia

Furniture Code: MTBL (CLICK TO ENLARGE)
Natural curve wood table and bench sets. Outdoor dining table furniture from Indonesia.
Contact us for ordering. We ship to any major ports worldwide.
Send email to us using inquiry form
Ph.(62 81) 353357458 Cel/WhatsApp: +628179731022 Cel (62 81) 79731022. Skype: cvmaya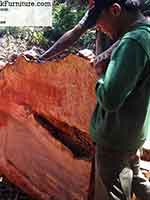 Teak wood garden furniture. Outdoor furniture made of teak wood from Java Indonesia. Patio furniture direct from teak furniture manufacturer and teak wood furniture factory in Indonesia. Producer and exporter company of patio and lawn furniture. Browse our catalog of teak wood bench, chairs, cabinets, garden set etc.
Back to Indonesia Teak Furniture Home | Indonesia Furniture Order Info | Contact Indonesia Teak Furniture