Need teak root furniture made in Indonesia ? We have it. We're garden furniture manufacturer and exporter company located in Java Island of Indonesia, where the largest teak plantation in the world located. Browse our catalog of teak root furniture. Email to us using inquiry form to place an order. Tell us the product number and quantity wanted. Don't forget to tell us the name of shipping port near you. Once we receive your email, we will reply with pricing, shipping charge and info regarding production time. We receive many emails everyday. We give response only to serious inquiry. Please provide your complete address and a brief info about your company or business. Thank you . . .
ABOUT THIS WEB SITE
This web site in an online catalog of teak root furniture and other rustic furniture made in Indonesia. This web site owned by CV Maya, a manufacturer company located in Yogykarta, Indonesia. We buy the teak root log from harvested teak tree directly from Perum Perhutani, the goverment body responsible for the control of the largest teak farms in the world. We produce teak root furniture at our factory in Yogyakarta and export worldwide trought Tanjung Mas Port in Semarang, Central Java. Click here for direction to our teak root furniture factory ...
ABOUT OUR TEAK ROOT FURNITURE
Our teak root furniture made of teak tree root wood log taken from teak plantation in Java. Java island of Indonesia is the home of finest and largest teak plantation in the world. None of our teak root furniture made with teak root log taken from rain forest, in fact teak tree cannot even grow in rain forests. Click here for more info regarding our teak root furniture
ORDERING OUR TEAK ROOT FURNITURE (Pricing, Shipping, Payment Terms etc.)
To order our teak root furniture is easy. Simply type in your email details regarding your order (product code, size and quantity wanted) and send to us using inquiry form
More info on ordering our teak root furniture, click the link ...

CLICK HERE FOR OUR ROOT FURNITURE PRICING
Palm pots garden planters. We produce home and garden decorations made of palm tree wood trunk. A huge vases or pots. Very beautiful and unique. Add a strong natural look to your lawn or patio with our palm vases and palm pots. Also good as decoration for shops, hotels, landscape, park and other open space. Click here to view our palm vase from Indonesia
Teak root furniture from Java and Bali Indonesia. Teak root wood furniture such as teak root chairs, teak root tables and teak root benches. Garden outdoor furniture made of teak wood. Buy direct from java teak root furniture factory and manufacturer with years of experience in export teak root furniture.
TEAK ROOT FURNITURE GALLERY
Teak root bench indonesia. Browse our catalog of teak root wood bench. These catalog shows you model of teak bench which available for ordering most of the time. Remember, we always ship garden teak root furniture in clean, fine sanded and finished condition. Sorry, photos here show many teak wood bench in half finished condition.
More Photos from Rustic Furniture Factory in Java Indonesia. Manufacturer Company for Teak Rustic Furniture
Outdoor furniture and Indoor furniture made of teak wood from Java Indonesia
Links to Teak Root Outdoor Furniture Made in Indonesia
Live Edge Dining Table from Indonesia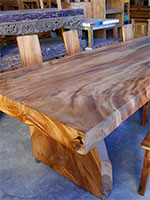 Large Dining Table from Indonesia
Links to Teak Wood Outdoor Furniture Made in Indonesia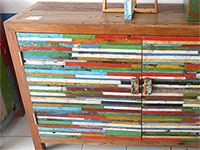 Reclaimed Boat Wood Furniture Factory from Indonesia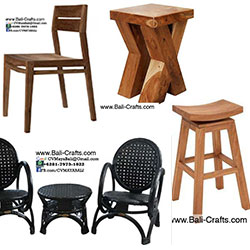 Teak wood mushrooms from Indonesia. Home and garden ornaments. Carved teak wood mushroom sculptures. Solid teak wood mushrooms handcarved by skill teak wood craftsmen using reclaimed teak wood. Handmade in Indonesia. Beautiful and durable teak wood home and garden decors. Unique and one of a kind.Don't forget to view our catalog of reclaimed boat wood letters.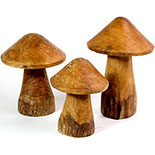 Indonesian Furniture | Bali Furniture | Shop | Root Furniture | Teak Bowls| Boat Wood Furniture | Teak Wood and Copper Bowls | Live Edge Dining Table
We have many wood arts and crafts products which sell very well worldwide especially in UK and European countries. Please click links below to view our handicrafts products. Teak root furniture indonesia beautiful teak wood candle holders, teak wood bowls, palm wood vases, bamboo ducks, stone planters and water feature. Also wood carvings with abstract style. These products available on our sister site www.Balifurnish.com the No.1 source for handicrafts made in Indonesia.
Wood Candle Holders | Teak Bowls | Palm Wood Pots | Bamboo Root Ducks | Stone Planters & Stone Water Feature | Bali Wood Carvings
---