We use teak wood taken from Indonesian goverment's controlled teak plantations. Read articles and view photo gallery of teak plantation in the island of Java, Indonesia
Teak wood plantation in Java Indonesia
Perum Perhutani is a State owned enterprise managing State Forests in Java and Madura on a commercial basis and with responsibility to implement concurrent social welfare, economic and national development directives. Its fief is 2.5 million ha and includes 1.081 million ha of teak forest of which 0.837 million ha is suitable for the clear felling harvest system. Management is through a Board of Planning in each provincial level unit which sets an annual plan for implementation by a Forest District manager. The reforestation programme averages annually 10,000 ha, 8,000 of teak.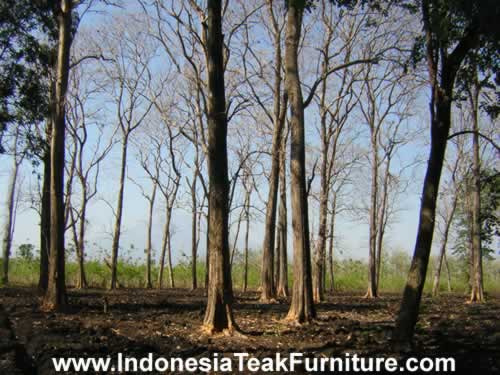 Teak (Tectona grandis L.f.) is one the most important commercial tree species in Indonesia. It is planted extensively in Java by Perum Perhutani, a state forest enterprise established by the Act No. 36/1986, and which is responsible for the management of teak. Teak plantations cover over one million ha and the annual cut is about 8,000-10,000 ha (Hardiyanto et al., 1992). Rahardjo (1993) noted that Perum Perhutani is also responsible for managing some 0.5 million ha of protection forest and approximately 2.0 million ha of production forests, both in Java. About 1.8 million ha of production forests are plantations comprising: teak (0.6 million ha), pine (0.2 million ha) and other species such as Agathis, mahogany, rosewood, Paraserianthes falcataria, Acacia mangium and Gmelina arborea.
Despite the fact that teak has been widely planted, the use of genetically improved seed has not been practiced and current plantations utilize seeds from production areas.
Read more articles and photos about teak plantations in Java Indonesia
The tree trunk wood arts is a perfect match to our teak root furniture
Combine order for tree trunk wood arts with teak root furniture
Furniture teak tree root Made in Indonesia
Don't forget, teak root furniture from Indonesia, NOT Thailand or Myanmar. This is not Thailand teak root furniture or Myanmar teak root furniture. Click to view our complete catalog for tree root furniture.
View More Teak Wood Decorations and Ornaments Made in Indonesia
Live Edge Dining Table from Indonesia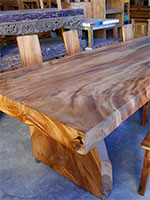 Large Dining Table from Indonesia
One of our best seller is the teak wood planters. It's been exported worldwide. Very popular as umbrellas holder or as planters. We're able to supply big quantity in one month.
Steel Drum Furniture from Indonesia
Oil Barrel Furniture from Indonesia
Links to Teak Wood Outdoor Furniture Made in Indonesia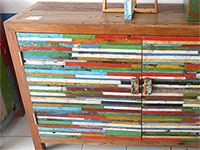 Reclaimed Boat Wood Furniture Factory from Indonesia
Indonesian Furniture | Bali Furniture | Shop | Root Furniture | Teak Bowls| Boat Wood Furniture | Teak Wood and Copper Bowls | Live Edge Dining Table
Kitchen utensils made of teak wood from Java Indonesia. Various teak wood spoons, forks, bowls, trays, plates and many more. Wide range of wooden tools for your kitchen. All made of solid wood including teak wood. Handmade by skill craftsmen of Indonesia. Browse our catalog of teak wood kitchenware direct from factory in Indonesia. Take a look at our extensive range of cooking utensils including spatula and cooking spoons. View also salad fork, teak wood bowls and plates for your restaurant or catering business. Wooden Cooking Utensils for Kitchen. Wooden spoons and plates to meet all your cooking needs. Don't forget to view our catalog of Kuksa cups made of wood. Nordic style wooden Kuksa cups made of teak wood direct from teak wood kitchen tools factory in Indonesia.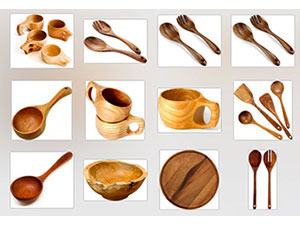 Our company CV MAYA registered and located in Bali and Java Indonesia. We produce and export products made in Indonesia. Order furniture from Indonesia here. Browse our catalog and place your order for our wooden crafts and furniture on our sites. Browse www.Balifurnish.com for Bali wood crafts and home decors. Place your order for Bali Crafts on www.Bali-Crafts.com. Browse our web sites or chat with us on our social media, go to Teak Furniture linktree page.