Index > Reclaimed Teak Furniture > Antique Wood Gerobog Table Javanese Teak Furniture
Reclaimed Teak Wood Furniture Made in Indonesia. Furniture from Bali and Java Indonesia. Furniture made of old teak wood. Home furniture, outdoor garden furniture and patio furniture. Also available, office furniture. Furniture for hotels, restaurant, living room and bedroom.
What is Jodang ? Jodang is a wooden chest from Madura Indonesia. Known also as wedding chest. It is usually made of carved teak wood. In the old days, the groom carved the chest for the bride. The chest then filled with gifts for the bride. A wooden stick or bamboo inserted to the holes and then paraded in the wedding ceremony.
Indonesia furnishing for home and garden. Antique ethnic furniture made of teak wood from Java Indonesia. Java antique furniture. Java folk arts. Architectural elements made of old teak wood from Indonesia. Madura antique chest export furniture company. Primitive rustic furniture. Table bench chairs home accents antique reproduction Madura Indonesia.
We adding more furniture made in Indonesia. Come back often !
Please email to us using inquiry form for pricing and ordering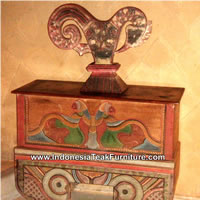 Furniture Code: GRB 10
Teak Wood Antique Jodang
Links to all Antique Reproduction Old Teak Wood Furniture from Java Indonesia:
Teak wood gerobog placed under large wooden mirror
Ethnic furniture from Java Indonesia. Jodang and gerobog table made of teak wood. Teak wood is a termite resistant wood. Last for generations. Our Indonesian furniture use teak wood, Java teak jodang table for your living room, dining room, home office terrace veranda, hallway etc. Interior decorations and home accents. Eclectic arts crafts furniture and home decors. Carved gerobog chest from Bali. Antique Indonesian rice storage chest on wheels is possible to use as coffee table. Madura dowry chests jodangs.
We have a carefully selected antique reproduction teak furniture made in Indonesia. Furniture with strong Java ethnic look such as gebyok, jodang, gerobog, table, bench, daybeds chairs coffee tables, wedding chests, console, wardrobe and many more.
To place an order for our furniture please send your inquiry to us using inquiry form Please tell us in details regarding your order such as product code and quantity wanted. Don't forget to provide us with a brief information about your company and business. We'd love to deal with serious people only. Please be serious.
More Teak Wood Furniture from Indonesia. Rustic Furniture Made in Indonesia
Java Teak Furniture. Teak Wood Benches, Teak Wood Daybeds, Tables etc.
Back to Indonesia Teak Furniture Home Page
Teak root wood console table from Indonesia. Handmade console table made of teak root wood. Teak root wood console table made of teak tree root wood from teak plantation in Java Indonesia. Durable and real solid wood suitable for indoor and outdoor. Teak wood furniture for your home and garden. Available in various sizes. Each console table here and all other teak root furniture is unique and one of a kind. Please email us for further information about ordering and importing our teak root furniture. Teak wood console table from Indonesia.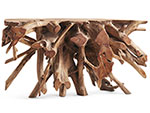 Indonesia furniture. Old teak furniture from Java Indonesia. Bali furniture. Reclaimed teak wood bench, chairs, lounger, tables, cabinets etc. Made in Java Indonesia. The center of furniture industry in Indonesia. Java also home to many teak plantations. Our furniture made of solid hardwood teak. Our teak furniture will last for generations to come !