Teak Root Furniture Made in Indonesia
Manufacturer Exporter Company for Rustic Furniture and Handicrafts Made in Indonesia.
Rustic Furniture Made in Indonesia. Teak Root Table from Java
Teak root furniture made in Indonesia. Rustic furniture (table, chair, bench, lounger etc) handcrafted from teak root from teak plantation in Java island of Indonesia. Suitable as patio and garden furniture or indoor furniture. If you need furniture manufacturer company in Java Indonesia for outdoor log benches and other patio furniture, contact us now. We're manufacturer and exporter company in Java with factory producing teak root furniture. We buy the teak root log directly from perum perhutani, a goverment body who control all teak plantations in Java and other island in Indonesia and make the teak root furniture at our facility in Yogyakarta, Indonesia. We produce and export only good quality and artistic teak root furniture.
Rustic Home Furniture from Indonesia. Teak wood table made in Indonesia
This is rustic furniture made of teak root wood. Teak wood is the best wood for use in the construction of outdoor garden and patio furniture. Teak wood especially from teak plantation in Java Indonesia is the best wood for garden furniture because teak wood is the hardest, strongest and most durable of all timbers. Teak wood also extremely rot and parasite resistant. Teak will not splinter and it is weathers evenly in the sun. No preservative treatments needed.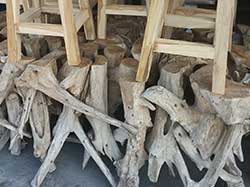 Product Code for this Furniture: TRTBL P2-7
Teak Root Table from Indonesia. Rustic log furniture for your outdoor garden and patio
Links to all teak root table: You're here: Page 2
Indoor Cabin Furniture made of teak root from Indonesia
Rustic Bar Furniture made of teak root from Indonesia
Cabin Bedroom Furniture made of teak root from Indonesia
Unique Rustic Furniture made of teak root from Indonesia
Rustic Living Room Furniture teak root from Indonesia
Teak root furniture. Remember also to visit our photo gallery of teak root furniture from Java Indonesia. Beautiful teak root furniture such as bench, chairs and tables. All made of teak tree root wood from teak plantations in Java Indonesia. Good quality cheap price.
Wooden Table Furniture from Indonesia. Garden Dining Table Made in Indonesia
Outdoor dining table made of wood. Please browse our thick wood table catalog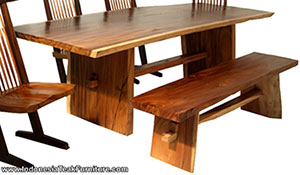 Big Dining Table Live Edge
Live Edge Dining Table from Indonesia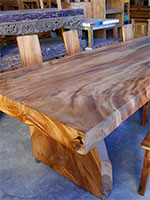 Large Dining Table from Indonesia
Links to Teak Wood Outdoor Furniture Made in Indonesia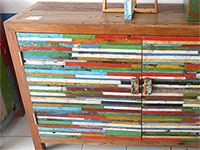 Reclaimed Boat Wood Furniture Factory from Indonesia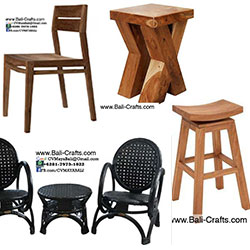 Teak wood mushrooms from Indonesia. Home and garden ornaments. Carved teak wood mushroom sculptures. Solid teak wood mushrooms handcarved by skill teak wood craftsmen using reclaimed teak wood. Handmade in Indonesia. Beautiful and durable teak wood home and garden decors. Unique and one of a kind.Don't forget to view our catalog of reclaimed boat wood letters.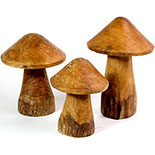 Indonesian Furniture | Bali Furniture | Shop | Root Furniture | Teak Bowls| Boat Wood Furniture | Teak Wood and Copper Bowls | Live Edge Dining Table
Kitchen utensils made of teak wood from Java Indonesia. Various teak wood spoons, forks, bowls, trays, plates and many more. Wide range of wooden tools for your kitchen. All made of solid wood including teak wood. Handmade by skill craftsmen of Indonesia. Browse our catalog of teak wood kitchenware direct from factory in Indonesia. Take a look at our extensive range of cooking utensils including spatula and cooking spoons. View also salad fork, teak wood bowls and plates for your restaurant or catering business. Wooden Cooking Utensils for Kitchen. Wooden spoons and plates to meet all your cooking needs. Don't forget to view our catalog of Kuksa cups made of wood. Nordic style wooden Kuksa cups made of teak wood direct from teak wood kitchen tools factory in Indonesia.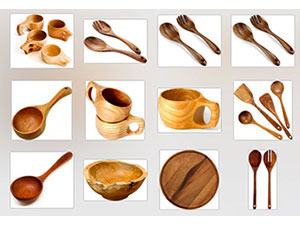 Our company CV MAYA registered and located in Bali and Java Indonesia. We produce and export products made in Indonesia. Order furniture from Indonesia here. Browse our catalog and place your order for our wooden crafts and furniture on our sites. Browse www.Balifurnish.com for Bali wood crafts and home decors. Place your order for Bali Crafts on www.Bali-Crafts.com. Need help? send us email or send message on WhatsApp: +6281353357458.